I will be missing my blog this weekend. I will be away, and missing reading all of your blogs too! Thank you for your lovely comments! I really, truly always look forward to reading them.
Here's a neat blog for you to browse while I am away.
Mr. Taylor and His Lady
writes with a fun, fresh, dry humour. I really almost laughed out loud. And that's not a hyperbole (I was helping my little sister with her English essay tonight, okay?).
The author of
Mr. Taylor and His Lady
(who is 'his lady' himself I presume) has decided to write 'awkward and awesome thursday' posts. I love this idea! I haven't decided if I'll join in or not, but hey, it could be fun!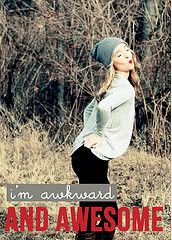 Enjoy your weekend!